Yantai/ May 15, 2020 Putaoshang Primary School chose Jereh electrostatic disinfection equipment to get prepared for school reopening.
Electrostatic technology is able to realize 360°disinfection, leaving no dead zones, which guarantees a virus-free and safe environment for pupils.
Putaoshang Primary School takes a space of 3.7 acres with over 1,200 students and 70 school staff. Frequent and thorough disinfection is vital to cover the spacious campus.
Therefore, different models of electrostatic disinfection equipment are combined for this need. Jereh used electrostatic disinfection for open-space like playground. Backpack is chose for disinfecting classrooms and offices where the space is relatively narrow. By adopting electrostatic disinfection equipment, it takes only one hour to finish the same amount of work that could take a whole day in the past.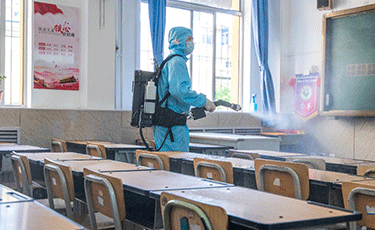 The excellent performance of electrostatic technology is not only reflected by its efficiency but also the actual effects.
Dozens of tables and chairs in the classroom lead to numerous corners and crevices, where virus could easily hide or flow with the air, increasing the risk of infection.
Jereh adopts globally-advanced electrostatic technology that turns solution droplets into electrostatically-charged ones through high-voltage electric field near the nozzle.
In this way, each droplet will carry electrostatic force, 75 times stronger than gravity force, allowing them to warp target surface completely even those hard-to-reach areas.
Regular disinfection sprayers usually leave the surface of chairs and tables wet and require secondary wiping and cleaning, which cost extra time and labor.
Electrostatic disinfection sprayer adopts dual-atomization to break solution droplets into even smaller ones (40μm) so that the droplets would not wet objects nor harm electrical appliances. Therefore, no dry-out or secondary cleaning will be needed, making it safer and more convenient.
Although the droplets from electrostatic disinfection sprayer are as small as 40μm, they carry away with enough disinfectant to ensure the effects of disinfection. At the same time, it can avoid the excessive use of disinfection, lowering the risk of influencing human body.
"Children are excited to be back to school. We've been looking forward for this for a while." A parent said. "We are relieved to see that school has taken strict measures to provide the kids a safe environment."
The spokesperson of school said, "It is a right choice to work with Jereh, their technology and equipment give us great support."